JIMMYLORUNNING
lives and writes in Atlanta, GA.
THE SEA IS WHITE
is a book of poems, available here as well as most online booksellers.
Samples can be found in various magazines in print or online:
A REDUCTION
is a handmade chapbook published by Little Red Leaves Press: Textile Series. This limited edition book is lovingly sewn from recycled bedsheets and shower curtains. Accompanying the prose poem are nine color photographs printed on transparent 'slides'. It's available right now for only $8. Order online now. Or read it online here.
OTHER WRITTEN WORKS
FREE POEMS ON DEMAND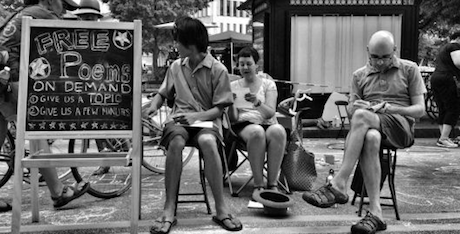 is a pop-up venue where passersby suggest poem topics and receive on-the-spot compositions. I started it in 2010 with some Atlanta writers. More information can be found on the Free Poems on Demand website.
VISUAL ART
My Art Instagram follow my art progress
My Twitch I livestream my art sometimes
My Doodles Could Be Your Life completed March 2019 for The Sketchbook Project (a traveling crowdsourced sketchbook library)
COOKING
FILMS
WEB STUFF
OTHER STUFF
This is not a link